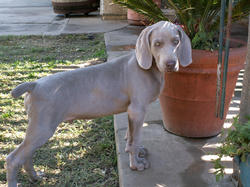 All About Us!
Welcome to Pearl Essence Weimaraners!
We are Vicki and Michael LePenske and this is our story.
We have been breeding weimaraners and making stud service available for seven years now, and love to share our knowledge and love of this great breed of dogs. We are serious hobby breeders and breed only when we have requests for pups. Our weimaraners are like our four legged children. They are indoor/outdoor dogs and enjoy just hanging out during the day. All sleep in the house with us on their own beds, as weimaraners are only happy when they can be with their families. They go on family camp trips and enjoy running in the desert.
Our dogs come from championship lines and have all health clearances (CERF, cardiac, and OFA hips). We offer stud service all year long to aproved bitches whose hips have been OFA certified. We have puppies once a year. Our pups are bred with breed standards and tempermant in mind. Breeding for obedience, water love, conformation and all around great family members whether for show or pets!
Thank you for your interest in our dogs/pups and please enjoy looking at the site!!
Title updates
We enjoy competing with our dogs. Currently both Olive and Magnum are training for rally and companion dog titles. They also are training for agility events.
Scarlett has her companion dog (CD) title and her rally advanced excellent (RAE) title. She also has her Canine Good Citizen (CGC) title. Scarlett is our first versatile dog with titles in two different disciplines!! Scarlett just earned her MACH8 which is Master Agility Champion 8 meaning she has earned that title eight times! After her sister Echo, she is the second weim to ever earn that title. She finished #2 weimaraner in the nation in agility in 2011 and in 2012 Scarlett finished in the #1 spot!!!!!! Scarlett also competed at the Eukanuba Agility Invitational in 2012 & 2013. This is by invitation only, which is given to the top five dogs in each breed. In 2013 Scarlett was the top weim and the competition and earned a spot in the finals! So proud of my girl!!!!
Echo has earned her companion dog (CD) title. Echo has earned her rally advanced (RA) title and her Canine Good Citizen (CGC) title. Our Echo is quite the girl....She has made it to the top five in her breed and received the invitation to the Eukanuba Agility Invitational four years in a row starting in 2010. In 2011 Echo made it to the finals in the 3rd spot. She was also the #1 weim in agility in the nation in 2011 and finished in the #2 spot behind her sister Scarlett in 2012. Echo also competed at the AKC National Agility Championship in 2012 where she also made it to the finals in the 3rd spot out of 180 dogs!!! Echo was also named High In Trial at our Weimaraner Club of America agility trial in 2012. It was a great year for her. Echo was also the first weimaraner to earn MACH8. She now holds the title of MACH10 and will soon have MACH11!!!!
Olive is doing well in agility. She is like her mom Scarlett, and is consistent but not real speedy. She has her MX and MXJ titles and is on the long haul towards her first MACH. Olive is the first dog that I have competed in conformation with. So far she has 3 of the needed 15 points to get that CH (breed champion) title. Olive does have her Int.CH title, which is International Champion. She loves to parade around the ring and earn her treats!! We are also working on tracking and obedience titles wich I hope we can add before the end of the year.
Magnum is the first blue weimaraner I have ever owned. He is magnificent! Such a loving boy and eager to please. He has his Int.CH (Internantional Championship breed) title, which is the only conformation title a blue weim can acheive. The AKC does not allow them to compete in the breed rings. He is also working on tracking and obedience at the same time as Olive. Magnum is having fun in the agility ring as well. He is very speedy and is getting better all of the time. His main focus is running fast, he doesn't care much to slow down for the weave poles, so right now that is the one thing that we are working through. He has his AX and AXJ titles.
PUPPIES ON OCCASION
Puppies, puppies, puppies...
We do not have any litters planned at this time.

Please check the Litter Anouncement page for details. And don't hesitate to contact us with any questions you might have.

Our pups go home when they are eight weeks old. All are AKC registered. They will have a two year health guarantee against congenital deffects and will be almost potty trained.
NuVet Labs Canine Plus
We feed and strongly recommend NuVet Canine Plus vitamins. Our dogs and pups are like family members to us! We as a family take vitamins so it only made sense to make them a part of our dogs daily meal. NuVet vitamins are made with human grade natural ingredients and are made with the same guidelines as human pharmaceuticals. They are not heat processed or made with fillers or artificial bindings. NuVet Plus provides pets with essential nutrients that are missing from their diets. It has helped to give us strong healthy pups, with beautiful coats and moms that look great all the way through pregnancy and postpardum. All of our pups go home with a weeks supply of NuVet Plus!
See their web site below or call 800-474-7044 and use order code 05811.
We are located in rural Riverside, CA. If you would like to reach us or come by for a visit please call 951 789-2641 or use the e-mail address below!

pearlessenceweims@att.net