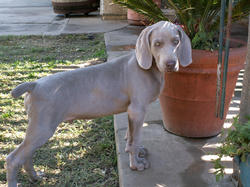 All About Us!
Welcome to Pearl Essence Weimaraners!
We are Vicki and Michael LePenske and this is our story.
We have been breeding weimaraners and making stud service available for seven years now, and love to share our knowledge and love of this great breed of dogs. We are serious hobby breeders and breed only when we have requests for pups. Our weimaraners are like our four legged children. They are indoor/outdoor dogs and enjoy just hanging out during the day. All sleep in the house with us on their own beds, as weimaraners are only happy when they can be with their families. They go on family camp trips and enjoy running in the desert.
Our dogs come from championship lines and have all health clearances (CERF, cardiac, and OFA hips). We offer stud service all year long to aproved bitches whose hips have been OFA certified. We have puppies once a year. Our pups are bred with breed standards and tempermant in mind. Breeding for obedience, water love, conformation and all around great family members whether for show or pets!
Thank you for your interest in our dogs/pups and please enjoy looking at the site!!
Title updates
We enjoy competing with our dogs. Currently two are training for rally obedience titles and one is training for a companion dog title. The three girls are training for agility events.
Cody has his companion dog (CD) title and his rally excellent (RE) title. He has also earned his Canine Good Citizen (CGC) title. He is working on his rally advanced excellent (RAE) title.

Scarlett has her companion dog (CD) title and her rally advanced excellent (RAE) title. Scarlett has been training for agility and so far is doing very well. At her first trial she won first place in two legs of her standard title and a second place on one leg of her jumpers title. At her second trial which consisted of three days of competition, Scarlett finished her (NA) novice standard agility and her (NAJ) novice agility jumpers titles with first and second placements. She also completed two open standard legs and one open jumpers leg. She is rock solid and qualified all runs with first and second placements all weekend!! At her third and last trial before pups, she finished her (OA) open agility title and her (OAJ) open agility jumpers title with first and second placements!!! Scarlett is doing awesome!! Since the pups have gone home, Scarlett earned her (AX) agility excellent and her (AXJ) agility excellent jumpers titles in two weekends. We earned her Master titles (MX & MXJ) in just one year! We are now working on the elusive MACH title (Master Agility Champion) that will take awhile to earn the twenty double qualifying legs and 750 speed points for that one! She also has her Canine Good Citizen (CGC) title. Scarlett is our first versatile dog with titles in two different disciplines!! Scarlett finished in the number eight positon for the agility rankings this year! What a feat, when you think that we quit competing to have a litter of pups! Back to competing, we only need 150 points for her MACH.
Mango has her rally advanced excellent (RAE) title and her companion dog (CD) title. She scored between 189 and 192 points out of 200 points available on the three legs needed for the CD title.... way to go Mango!!! We will start training for a companion excellent title. Mango has also earned her Canine Good Citizen (CGC) title. She also won the alternate spot on the Orange Empire Dog Clubs novice obedience team! We have recently started training for agility and Mango is catching on quickly. She has fun and loves to jump and run. So far, she is the fastest of the three girls on the training course. Mango debuted her agility skills with style--over the Labor Day weekend (a three day trial) she placed first in all of her runs!!! That gave her the NA (novice agility) and NAJ (novice agility jumpers) titles! On to the open classes for us. Mango has finished her open titles and now is in the excellent A classes.
Echo has earned her companion dog (CD) title. Echo has earned her rally advanced (RA) title and her Canine Good Citizen (CGC) title. She has been training for agility competition and is doing extremely well! At her first three day trial she earned her Novice Agility Jumpers (NAJ) title. At the next three day trial Echo finished her Novice Standard Agility (NA) title and got one leg each toward her open agility titles!!!! I am told that this is a huge accomplishment. Go, Echo..... Wow, agility is fun for us. Echo now has her Open Standard agility title (OA). Finished in just her third weekend out!! On to excellent. Now Echo has finally acheived her (OAJ) open agility jumpers title and is in the excellent classes in both disciplines of agility. Those weave poles are tricky. It took a while but Echo has now earned her (AX) agility excellent and now her (MXJ) master excellent jumpers titles. She is a gonzo dog that doesn't like to slow down, so getting the weave poles is hard--they take too long, she just rather keep running and jumping!! We now have our (MX) master agility title and will start to acrue points for our MACH (Master Agility Champion) title. CONGRATULATIONS to Echo!!!!!! She has finished third in the national agility ranking for the Eukanuba invitational. This is a huge accomplishment and we are excited to be invited with the top five of our breed to compete at the nationals this December in Long Beach. ***CONGRATULATIONS to Echo again!!!!! She earned her MACH in October! It was very exciting and long awaited. We also competed at the Invitational and placed 60th out of 100 in our class. Extremely well for our first time! Never resting and striving to be better we are getting close to our MACH2. Just need eight more QQ. We are again in the top five of our breed and are making it our goal to be #1.
PUPPIES ON OCCASION
Puppies, puppies, puppies...
We do not have any litters planned at this time.

Please check the Litter Anouncement page for details. And don't hesitate to contact us with any questions you might have.

Our pups go home when they are eight weeks old. All are AKC registered. They will have a two year health guarantee against congenital deffects and will be almost potty trained.
NuVet Labs Canine Plus
We feed and strongly recommend NuVet Canine Plus vitamins. Our dogs and pups are like family members to us! We as a family take vitamins so it only made sense to make them a part of our dogs daily meal. NuVet vitamins are made with human grade natural ingredients and are made with the same guidelines as human pharmaceuticals. They are not heat processed or made with fillers or artificial bindings. NuVet Plus provides pets with essential nutrients that are missing from their diets. It has helped to give us strong healthy pups, with beautiful coats and moms that look great all the way through pregnancy and postpardum. All of our pups go home with a weeks supply of NuVet Plus!
See their web site below or call 800-474-7044 and use order code 05811.
We are located in rural Riverside, CA. If you would like to reach us or come by for a visit please call 951 789-2641 or use the e-mail address below!

pearlessenceweims@att.net